From Our Labs to Your Facility, Form-A-Tread® Offers Three Exceptional Products
There are few manufacturing, commercial and public areas where Form-A-Tread products cannot be applied to help eliminate the risks associated with poorly maintained or designed stairways, ramps, walkways and general working areas.
Our original unique form-in-place, no-drip epoxy paste is designed to easily create custom and permanent treads on stairs, walkways, sloping surfaces, and any place where additional foot or vehicle traction are needed, including wet surfaces. Available in two color choices, Black and Safety Yellow, Form-A-Tread can be used to create better visibility on steps and walkways or detectable warnings at curbs and drop offs. Designed to be used indoors or outdoors, it is exceptionally durable in areas exposed to chemicals, weather and temperature extremes. Because of its paste consistency it can be applied on sloped and irregular surfaces and adheres to a wide variety of porous and non-porous surfaces without any priming required. If enhanced traction is needed, simply add one of three Tread Grit® choices during application.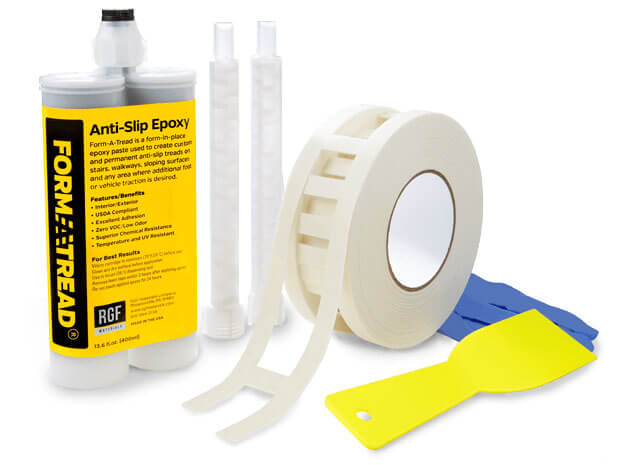 GLOW has the same no-drip, epoxy paste consistency as Form-A-Tread Original, but with a patented photoluminescence (glow-in-the-dark) and slip resistant formulation. GLOW is a single coat, fast curing, photoluminescent and slip resistant 100% epoxy formula designed to create permanent, slip resistant and luminous egress path marking on the horizontal leading edge of steps and landings. Form-A-Tread GLOW is 2015 ICC IBC and 2014 NYC Construction Code BC 1024.4 compliant and meets or exceeds the requirements of ASTM E 2072. GLOW is intended for indoor use and can also be used in theatre and other entertainment venues to increase safety and visibility on steps, landings, aisles and risers after the house lights are dimmed. Tread Grit CL (Clear) can also be applied to GLOW to further enhance traction.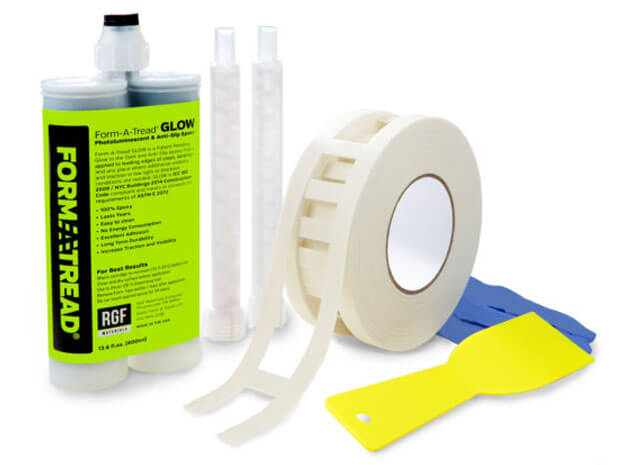 Form-A-Tread® SL (Self Leveling)
SL is a Safety Coating used to provide a highly durable, slip resistant, and attractive surface on walkways, ramps, floors, landings, vehicles, boats and other large areas where a durable and attractive slip resistant surface or "safe area" demarcation is needed for pedestrian and vehicle traffic. Comprised of two components— liquid epoxy binder and specialized aggregates, Form-A-Tread SL is moisture tolerant, extremely durable and has high strength, making it perfect in interior or exterior high-traffic areas. SL is easy to mix and apply due to its convenient packaging, 1:1 ratio and low to medium viscosity. Aggregates are available in variety of types from soft rubber to extremely hard, and numerous colors and color blends — Grey, Plaza Mix, Safety Yellow, and Heavy Duty.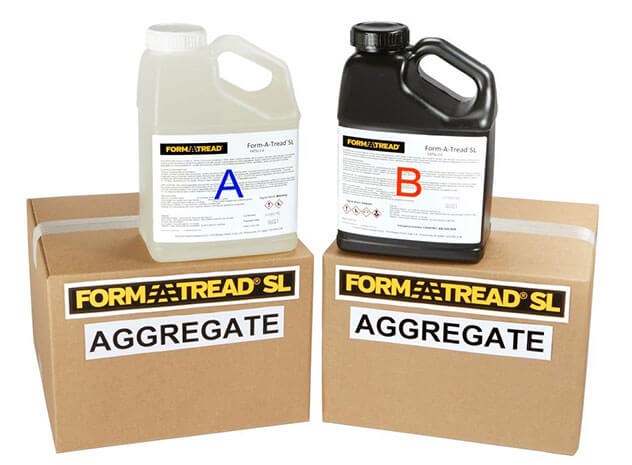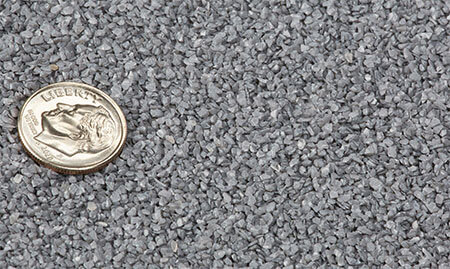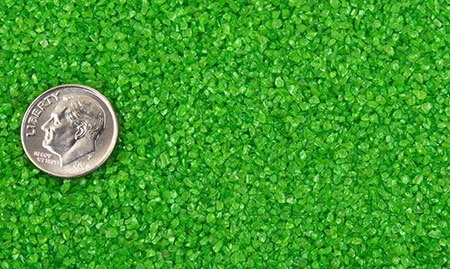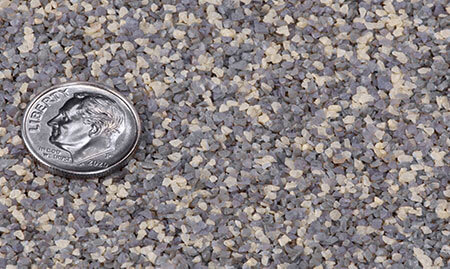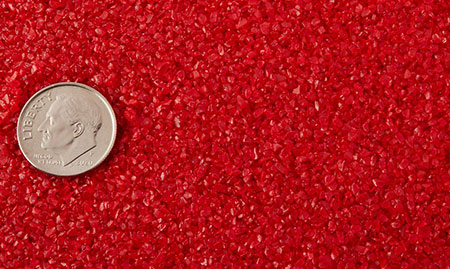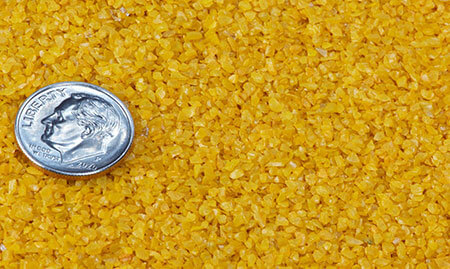 Form-A-Tread Original and GLOW formulas contain slip resistant aggregate but we offer 3 specific, topically applied "Tread Grit" aggregates to customize the appearance, feel, and aggressiveness of the tread. Each variant has been tested to have excellent adhesions to Form-A-Tread if applied within 5 minutes after spreading.
Tread Grit® HD (Heavy Duty)
Shake on Form-A-Tread immediately after spreading to increase traction on wet, oily, exterior and high traffic areas. Achieves Wet Surface SCOF = 0.71
Tread Grit® BFF (Bare Foot Friendly)
Shake Tread Grit BFF on Form-A-Tread® immediately after spreading. Produces a Bare Foot Friendly, slip resistant surface, especially useful in wet locations.
Transparent grit used to increase traction on GLOW and clear, colorless formulas. Shake Tread Grit Clear on Form-A-Tread immediately after spreading.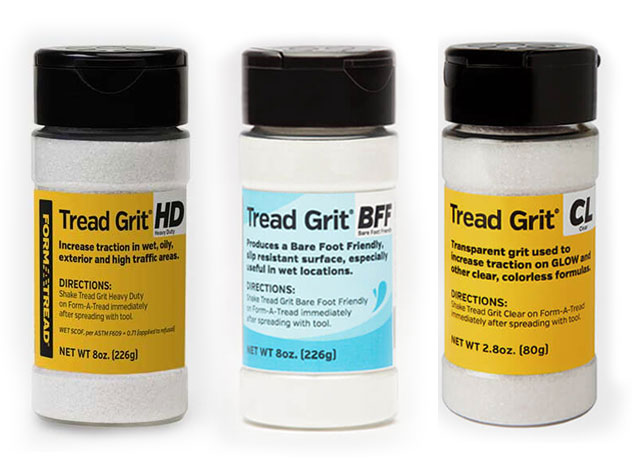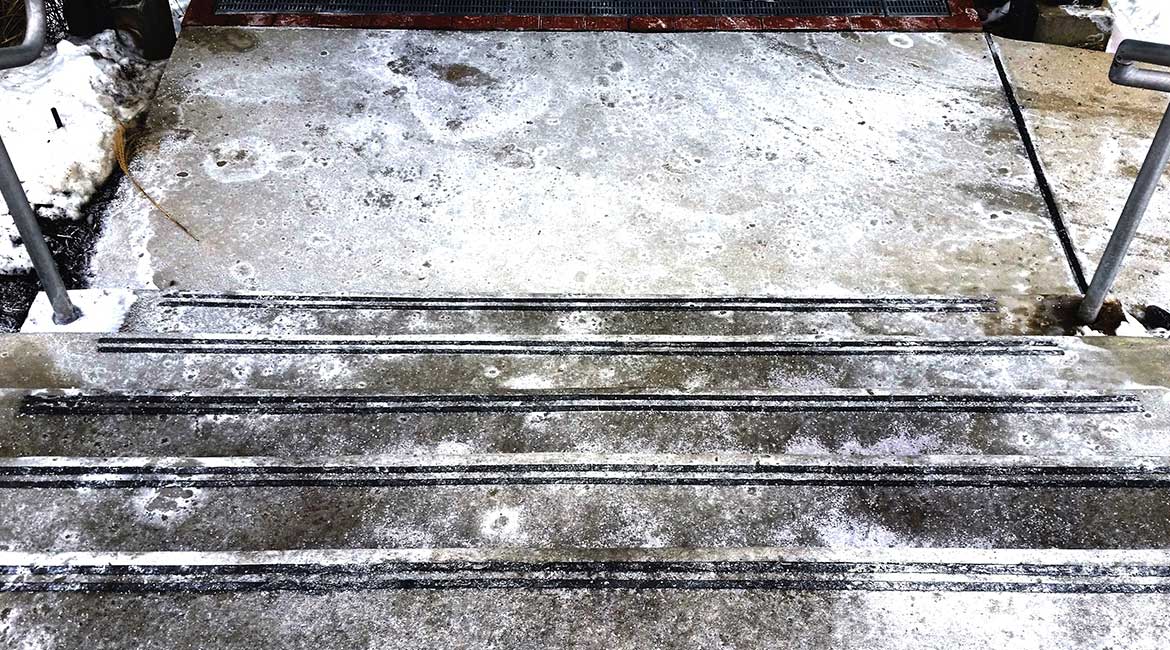 Form-A-Tread® Products Were Designed To Last
Our laboratory tests indicate that Form-A-Tread products could have a life expectancy of 8-10 years. Our first installation was in 2015 on the concrete steps of an office building entrance. It remains 100% intact today in spite of heavy foot traffic, harsh weather, direct sunlight and repeated heavy applications of ice melt! On average, anti-slip tapes, treads and paints need to be replaced every 6 months. The savings from using Form-A-Tread is realized year after year.
That's how long our first installation has lasted without replacement—only minor upkeep and cleaning. We can reduce YOUR tripping and slipping hazards, now and for years to come!