Founded in 2015, the Form-A-Tread Company, a division of RGF Materials Company (LLC), is certified by the US Department of Veteran Affairs (VA) as a VOSB (Veteran Owned Small Business) and has years of experience providing high-value formulated products and solutions to a wide variety of professional and consumer markets. The Form-A-Tread line of products combines our commitment to reducing injuries due to slips, trips and falls with our expertise in adhesives, coatings, and their applications.
Our Commitment To Quality
The Form-A-Tread Company is committed to providing quality products for lasting solutions to reduce the risks from slipping and tripping hazards. Our products were expressly created to eliminate the failure and cost issues associated with other applications such as paints, tapes, coatings, mechanically fastened pre-formed treads, and other treatments—Form-A-Tread products are easily installed yet extremely durable and adhere to any common building surface. They are also extremely chemical resistant and can withstand harsh weather, heavy traffic, moisture, and UV exposure. Through our innovative formulations, we have been able to eclipse the life expectancy of other retrofit solutions by years, eradicating the need for constant, costly upkeep—or even replacement. Unlike what our competition has to offer, Form-A-Tread provides a long-term solution.
Our proprietary formula contains UV inhibitors and no solvents so they are 100% epoxy and contain No VOC's. As a result they are safe to apply indoors or out and provide a superior level of adhesion and durability, reducing the high cost of labor associated with continual maintenance and reapplication of inferior products such as traction tape, paint, and solvent based coatings.
Field applications have proven that Form-A-Tread lasts 10X longer compared to traction tape, paint, and solvent-based coatings. It is especially suited for upgrading safety, traction, and visibility on existing staircases and is a more economical option compared to new construction or installation of aluminum non-skid nosing. Even under heavy traffic, Form-A-Tread products require minimal upkeep.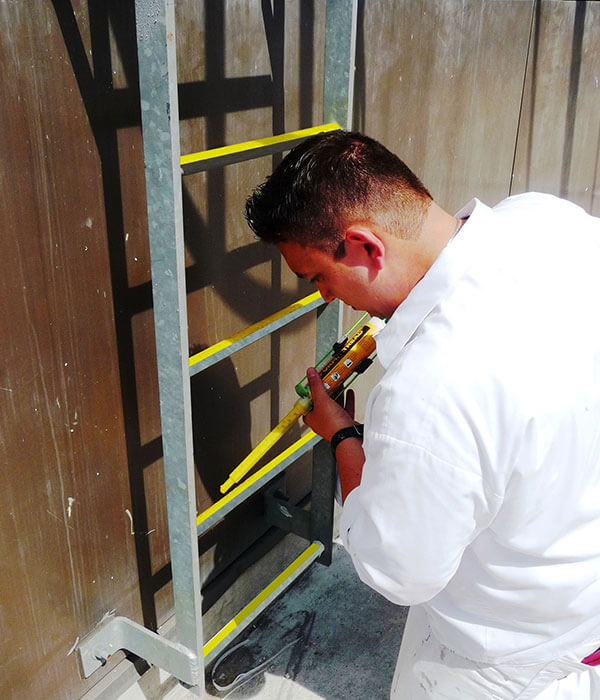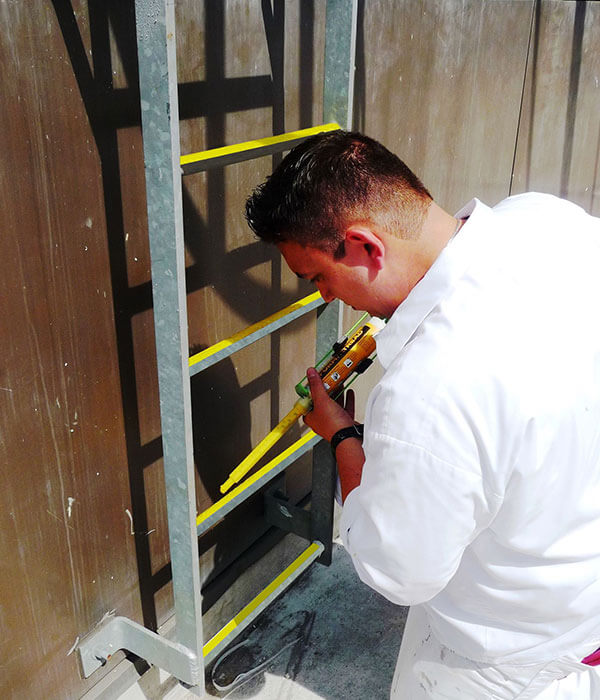 Quality
Products for Lasting Solutions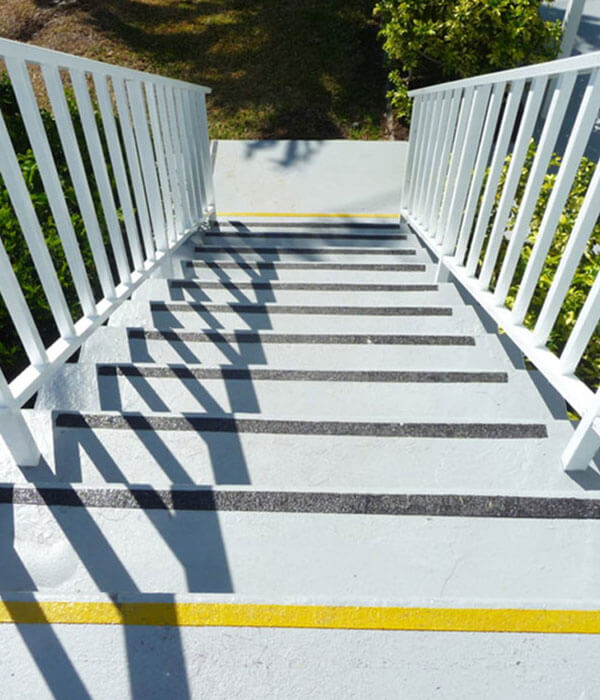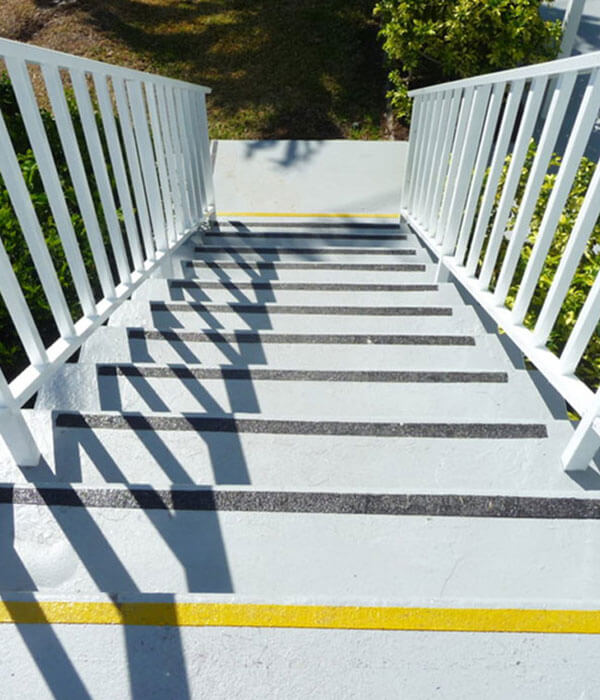 Reducing
Slipping and Trapping Hazards
Our Commitment To Reducing Slipping And Tripping Hazards
We are so dedicated to helping our customers reduce these risks that we make it part of our business model to provide guidance, technical support and training until the problem is solved. We know that there is a lot on the line and the Form-A-Tread team is frequently called in where other products have failed. We believe that we have many satisfied customers because:
We value their time and will work to help resolve issues with dependable, long-lasting solutions.
We stand by our products and can demonstrate their superiority in both applicability, cost-savings, and durability.
We believe in our chemistry and have several patent pending and patented technologies.
We carefully crafted the Form-A-Tread application methods to make them easy and safe so hazards can be eliminated sooner and not later.
We are good students—we understand building code, construction requirements, best industry practices and regulations for walking and working surfaces.
We Like to Solve Problems
Over the past five years we have found no instance in which a Form-A-Tread product has not been the best answer to retrofit steps, ramps, ladders, walkways, paths, stairs and floors. We work with facility staff, building owners and operators, maintenance personnel and EHS professionals in all kinds of buildings at all kinds of sites across every type of business. Plants, universities, entertainment revenues, parks, commercial and government properties—just to name a few—have all turned to Form-A-Tread to improve their site's safety.
Why do Facilities and Maintenance Staff love Form-A-Tread®
The average application time is less than 20 minutes per Kit
Full cure time ranges from 3-12 hours depending on temperature
Each Kit covers 40-50 linear feet (1" wide tread)
Each Kit contains all that is needed for the application
It can be installed inside and outside
No solvents or VOC's and Non Flammable
Very low odor so No Indoor Air Quality concerns
Tenacious Bond to porous and irregular surfaces
Epoxy paste, no drip formula makes it clean and easy to use
Resistant to chemicals, ice melt, UV, and temperature extremes
Lasts years with minimal upkeep
Order just what you need – no need to store buckets or cans of product
The Form-A-Tread Team can assist with the installation
Why do Health and Safety Professionals Love Form-A-Tread®
Fast and easy to install-solving safety issues quickly
Contains no solvents or VOCs to ensure worker and employee safety during installation
The epoxy paste, no drip formula makes it safer to use
Available in High Visibility Safety Yellow or Glow-in-the-Dark
Lasts years with minimal upkeep—resolving safety issues
Can be used for demarcation and as a stencil to provide safety signage
Bonds to surfaces permanently so never becomes a tripping hazard like peeling traction tape
Can be used on all building materials and walking/working surfaces
A retrofit to upgrade older surfaces that don't meet codes
Resistant to chemicals and temperature making it idea for industrial application
Grit applications help meet ANSI and OSHA recommended levels of slip resistance
Order just what you need—no need to inventory partially used cans or pails of sometimes hazardous chemicals
Reusable package – a partially used cartridge is reusable again and again…just replace with new mix nozzle
It prevents slips, trips and falls—the #1 reason for injury and death in the workplace
It helps with Fall Prevention—the #1 cited OSHA violation
Why do Architects, Designers and Building Owners Love Form-A-Tread®
Code Compliant:

ICC A117.1-2017, Para. 504.6 Visual Contrast
IBC 2018, Para. 1011.5.4.1 Nonuniform Height Risers
IBC 2018, Para. 1025.2.1 and 1025.4(2) Luminous Egress Path Markings

Meets ANSI and ADA Standards for Accessible Design
ANSI A117.1, Section 504 Stairways
It is available in a variety of colors
It enhances initial design or retrofit for slip resistance
It can be used for demarcation or stenciling for signage
It is a perfect retrofit solution for renovations
The Form-in-Place application makes it customizable
Independent Lab Tested SCOF using Tread Grit HD exceeds industry standards
Contributes significant tactile advantage for enhanced traction and safety
Its resistant to chemicals, ice melt, UV, and temperature
Proprietary formula contains UV inhibitors
Lasts years with minimal upkeep