Form-A-Tread® Installation At The RUBIN Museum of Art, New York, NY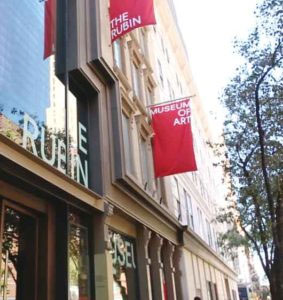 Background: The RUBIN installed two new aluminum diamond plate ramps on hallway stairs leading from the freight entrance to the museum. The ramps are designed to allow faster transit of artwork and museum supplies.
Problem: Ramps are steep and did not provide adequate traction so slipping was a major concern. Non Slip Tape was considered but based on past experience RUBIN engineering personnel questioned tape's adhesion to an irregular surface and long term durability when exposed to heavy traffic. Life span of tape was predicted to be less than 6 months at a cost of around $200.
Solution: 1" wide stripes of Form-A-Tread® Black, spaced 4" apart, were installed perpendicular to the direction of traffic the entire length of both ramps. The ramps are exposed to heavy traffic so Tread Grit® was applied for additional traction and durability.
Installation Time: Under 2 hours. Form-A-Tread was installed in the late afternoon and allowed to cure overnight. Ramps were ready to receive traffic by museum opening the next morning. One RUBIN employee performed the entire installation. Temperature of install area = 75°F.
Cost and Useful Life: Total material cost = $345. Useful Life estimate is over 5 years.
Summary: The RUBIN was very pleased with the ease of the Form-A-Tread installation and have already benefited from increased safety in the transit area. 5 year material cost savings compared to anti-slip tape = $1,655.